PAY PER CLICK ADVERTISING
FOR PLUMBERS
Pay per click (PPC) advertising is a controllable and cost-effective way to drive plumbing leads to your website and increase sales.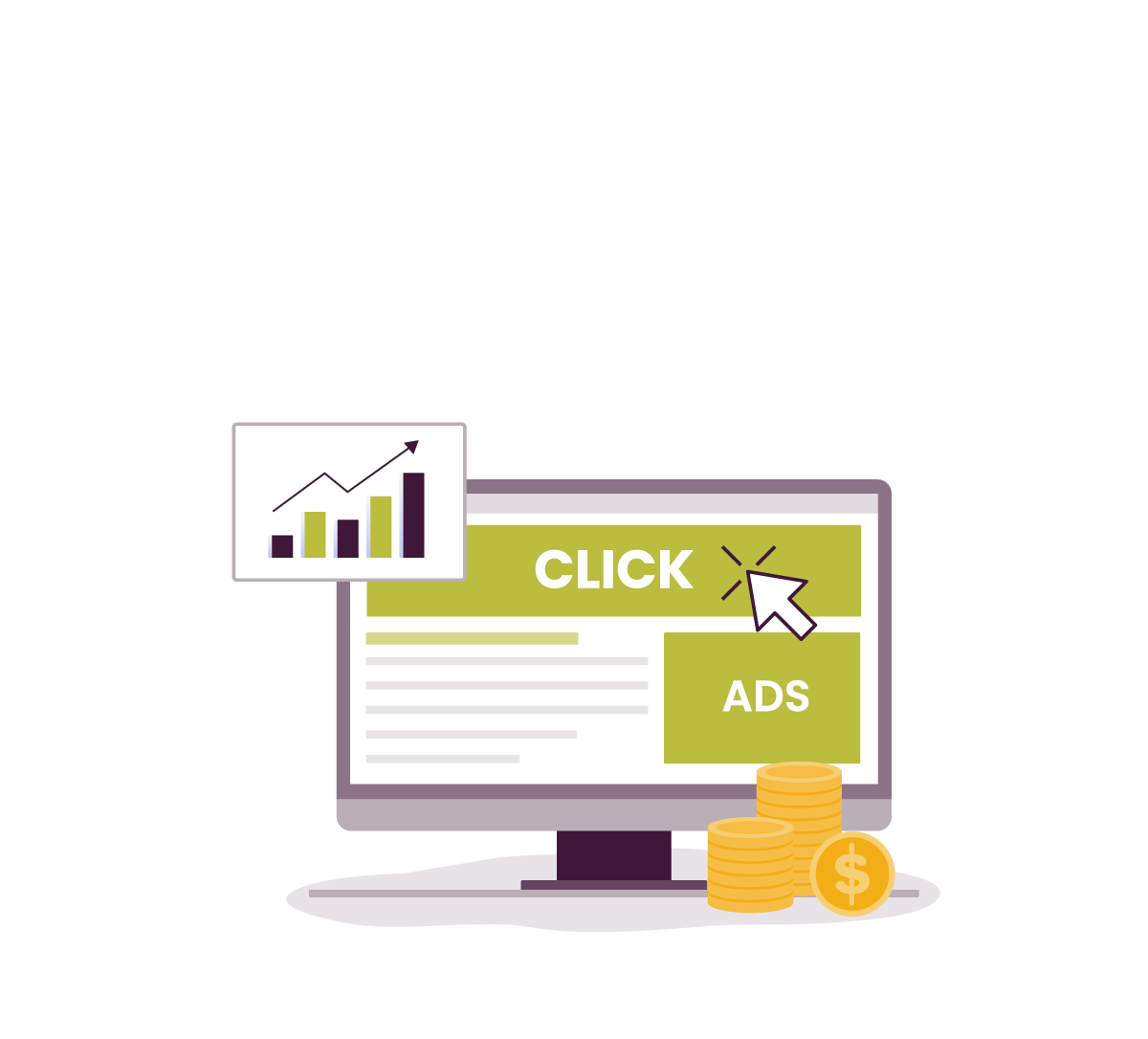 WHAT IS PAY PER CLICK (PPC) ADVERTISING AND HOW DOES IT WORK FOR PLUMBERS?
Historically, the service industry has relied heavily on word-of-mouth advertising. It was necessary to count on clients to share your business with others in order to generate business.
However, as the world has gone more digital so can your plumbing business. You need to use digital marketing strategies to 

amplify the profitability

 of your plumbing business. 
In digital media marketing, you want to generate content that drives valuable web traffic to your business. By using pay per click advertising you can redirect potential clients to your site.
START DRIVING TRAFFIC WITH EFFECTIVE ADVERTISING
Think about how much time you have spent on your phone today. You have scrolled past tons of content and perhaps don't even remember all of the media you have consumed today.
People spend hours without end glued to their devices consuming media. This digital trend has led many companies to rely heavily on digital marketing, and you should too.  Effective digital marketing can help you do the following:
build your brand

increase sales prospects

better relationships with your customers
Digital media is a heavily saturated industry. It has been reported that upwards of 80% of social media is paid media. If you are not intentional about driving traffic towards your services, it can be easy for your content to be lost.
WOULD YOU LIKE HELP
WITH PPC ADVERTISING?
PARTS OF AN ADVERTISEMENT
ILLUSTRATION
The illustration of an advertisement typically acts as the hook. This can be a photograph, digital drawing, or other graphic imagery. The visual part of the advertisement attracts the consumer into wanting more information. 
AD COPY
The ad copy refers to the text of an advertisement. This messaging primarily does the selling by including a verbal call to action. Ad copy that is simple and direct has the greatest impact because it is engaging and easy to quickly understand.
BRANDING
The branding aspect of an advertisement typically refers to the logo or text that is a distinct identifier for the business. Effective branding helps to ensure a strong level of brand recognition. 
EARNED, OWNED, AND PAID MEDIA ADVERTISEMENTS
Businesses are able to engage with customers digitally through earned, owned, and paid media. The three different types of media are leveraged to develop a comprehensive marketing strategy. By utilizing different media, you can optimize your business' company engagement and visibility.
EARNED
Earned media refers to organic content that is created digitally through word-of-mouth advertising. This includes positive reviews, social media comments, and mentions in blogs. The success of earned media is reliant on strong relationships with customers. You need to maintain relationships with customers to coax positive online reviews and shares. A company is able to build out its digital footprint through earned media and gain credibility from reviews of trusted customers. 
OWNED
Owned media is content that is owned and created by the business. Owned media refers to your company's social media accounts and website. Plumbing businesses can leverage their owned media accounts to directly engage with clients. Connecting with clients this way can further develop a positive relationship with them. When creating owned media, content creators work to develop search engine optimized content. This will allow ads to boost web traffic to your plumbing website.
PAID
When you can't rely on a steady flow of positive earned media it is important to be able to use paid media to amplify your impact on social media. Paid media is when you pay a third-party company to share your advertisements. This third-party entity that you may advertise with is a social media platform or business with similar clientele. Paid media is a cost-effective method of advertising. 
WANT TO LEARN MORE ABOUT
BUILDING PAID ADS?
PAY PER CLICK ADVERTISING
One of the most common modes of paid advertising sold by social media platforms and search engines is pay per click advertising. Pay per click advertisements are designed to ensure that your online marketing is cost-effective.
With pay per click advertising, the advertiser only charges you for every positive interaction that your advertisement receives. The advantage of this payment method is you are only paying when your advertisement fully engages a media consumer. 
If your advertisement is set up on a pay per click system you are only charged when customers click. If your ad goes untouched by consumers this will not be a financial burden on your business. It can be difficult to finance comprehensive marketing plans while working in the field all day. Social media platforms and search engines offer different pay per click rates. Depending on the product or industry being advertised the cost per click can vary.
BENEFITS OF USING DIGITAL MARKETING
Expanding the reach of your business is possible through the use of digital marketing. If you expand your digital marketing plan outside of earned and owned media you can engage new customers and foster stronger company relations. It is necessary to use a culmination of different types of media in order to expand your reach. Pairing sponsored, or paid content, with your company's owned media- you can engage new clients outside of your pre-existing base. 
Higher Engagement Rates
Through dynamic social media and paid advertisements, you can control who sees your advertisement. The ability to target your advertisement allows you to optimize your ad's impact. There are many marketing methods that you need to implement to boost engagement rates. Niche advertising allows you to target individuals who have interests in line with your services.
You can target individuals who have recently searched or liked similar content. This allows you to create a synthetic grassroots marketing operation. This form of paid advertising may seem more subliminal. 
Boost Brand Awareness
You can boost awareness of your plumbing business by developing a digital footprint. Businesses are able to create informative and interesting advertisements. By creating a strong digital presence you can make your plumbing business seem more credible and foster relationships with your clients. Paid media, such as pay per click advertisements, can be used to fill the gap between owned and earned media. 
Social media platforms' algorithms prioritize content from family and friends. It can be difficult to place organic ad placements that are impactful. Plumbing companies need to finance advertisements rather than rely on natural growth due to a steady flow of owned content. Due to the volume of content coming from your client's social network, it is necessary to put money behind your advertisements.
Financing advertisements ensures that your posts will be seen. It allows you to ensure that your content gains traction, even in a cluttered feed. 
Increase Customer Retention Rates
Your business relies on bringing in new customers to turn a profit. Through advertisements, you can stay relevant to your customers. A strong digital presence allows you to gain credibility and always be at the forefront of your customer's minds. If you have a dedicated group of customers who have supported you since day one you can create "gate content" exclusively for them. Gated content refers to media that is exclusive to repeat customers to incentivize customer loyalty. 
Reduce Marketing Costs
Online advertisements are very affordable. Many platforms offer pay per click advertisements that only charge per positive interaction. Even with a small advertising budget, digital marketing can be successful. Social media platforms allow you to have total control over your advertisement. You are able to monitor the engagement rates of a specific advertisement and either pull or boost the funds behind the advertisement. The ability for constant oversight and ease of rearranging ad finances makes these ads affordable and effective. Many service businesses and start-ups struggle with being successful in print advertising. In digital advertising, you take less risk by using an easily adjustable system.
OPTIMIZE YOUR BUSINESS WITH EFFECTIVE DIGITAL MARKETING
Boosting ad visibility in high traffic areas, such as Google or social media, can make your business successful. Utilizing social media as an asset is important in the service industry. Relying solely on word of mouth can lead to many missed opportunities. By leveraging paid and earned media ads, you can increase your brand recognition. Expanding your digital footprint can also increase the profit of your plumbing business.
It can be difficult to draw in new customers to your plumbing business. Marketing tactics such as pay per click advertising, help you make a profit. Connect with us to optimize your plumbing business through effective marketing strategies.
ARE YOU READY TO GET STARTED?